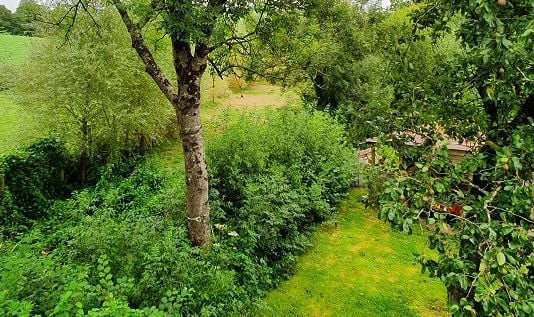 Yarde Orchard Accommodation – 2020
Under 18 year olds must be accompanied by an adult.
Nearly wild Camping field (bring your own tent) with toilet and shower block close by, right on the Tarka Trail Sustrans cycle route 27 & 3, lockable bike storage, water tap, dark skies, quiet location, free public car park close by (no vehicle access to site - 200 metre walk to secluded site), BBQ allowed, dog friendly £10 per person per night (£5 per child)
Bunkhouse Accommodation - 4 berth bunk bed room with kitchen & bathroom – 1 double en-suite room
4 berth bunkroom with bathroom and kitchen £70
For single occupancy £40 For double occupancy £50
(Includes 4 single bunk beds, electrical charging points, a reading light. Families travelling with children under the age of 12 will need to book a private room. Children aged between 12 and 15 can stay in dorm room if they're accompanied by an adult of the same gender.)
Double Bed – private en-suite shower room £70 (camp bed available for 1 child)
Electrical charging points and free wifi
Linen is included except for the towels (we have Towel rental if required @ £2.00 for a bath, hand towel and flannel set) Laundry is available: washing machine and tumble drier
Safe secure bike storage available – free public car park – electric bike charging – free water refills
Full cooked breakfast (2 x sausage, bacon, fried egg, mushrooms, beans and 2 slices of toast) including tea/coffee £10 per person – Pre-booking is required
Or from our on site café standard menu available 10am till 3pm, examples include:
Mug of tea £1.80 or a pot of tea £2.20 or Latte/Cappuccino/Americano £2.60
2 slices of toast with jam/marmalade £2 - Bowl of porridge or muesli with milk £2
Toasted sausage sandwich £4.00
Breakfast Muffins (2 toasted English Muffins, 2 eggs and slices of warm chorizo) £5.50
Evening Meal £10 per person for a shared dinner, please advise dietary requirements example menu would be two courses, homemade soup, followed by homemade lasagne served with salad and garlic bread, or on a Sunday we offer a roast chicken dinner – Pre-booking is required.
Licenced bar available on site 10am till 4pm and for residents only in the evenings (exceptions maybe pop pizza nights during the school summer holidays and music/theatre evenings as per our Facebook events page)
We can also do a clean cyclists packed lunch for the next day, choice of sandwich, apple/banana, snack, £5 per person. (Please advise the evening before if this is required)
20% non-refundable booking deposit to be paid on booking. 7 days cancellation policy, full payment will be required 7 days prior to arrival.

Sustrans Route 27 and Route 3
The 99-mile Route 27 route combines the beaches and estuaries of North Devon with the lush green valleys of West Country rivers. Many sections of Route 27 are traffic-free and flat, making them ideal for families or less experienced cyclists.
At Braunton, the route starts a 30-mile traffic-free section on almost entirely level former railway lines beside the beautiful Taw and Torridge estuaries via Barnstaple, Bideford and Great Torrington to the villages of Petrockstowe and Meeth. This section of the route is known as the Tarka Trail and is perfect for families and less experienced cyclists.
Lands End to John O'Groats challenge? Stay with us in the bunkhouse.
We are a perfect stopping off point if you are completing the Devon Coast to Coast challenge, we sit approxiamtely half way between the two coasts and can offer Bunkhouse accomodation, double ensuite room and overnight camping here at Yarde Orchard.
Find out more about staying in this unique location